Badger Box IN WILMINGTON, NC
Are you looking for a mobile storage unit in Wilmington, NC?
Look no further than Badger Box!
Badger Box offers portable storage units in Wilmington, NC, with enhanced security, easy-to-use features, and more comfort. Say goodbye to the hassle of traditional storage units and welcome the convenience of mobile storage units at your doorstep.
Whether renovating or moving out, whenever you need extra storage, Badger Box is here to help you. We bring the storage unit to you, making the entire process effortless and stress-free.
But that's not all!
As a leading provider of storage in Wilmington, NC, Badger Box sets the industry standard with its commitment to Badger box quality, reliability, and exceptional customer service. Our state-of-the-art units are designed to safeguard your precious possessions.
Why waste time and energy transporting your belongings back and forth when you have the convenience of a mobile storage unit at your fingertips?
Experience the freedom and flexibility of storage units in Wilmington, NC. Get your Badger Box storage unit now!
Secure Mobile Storage Solutions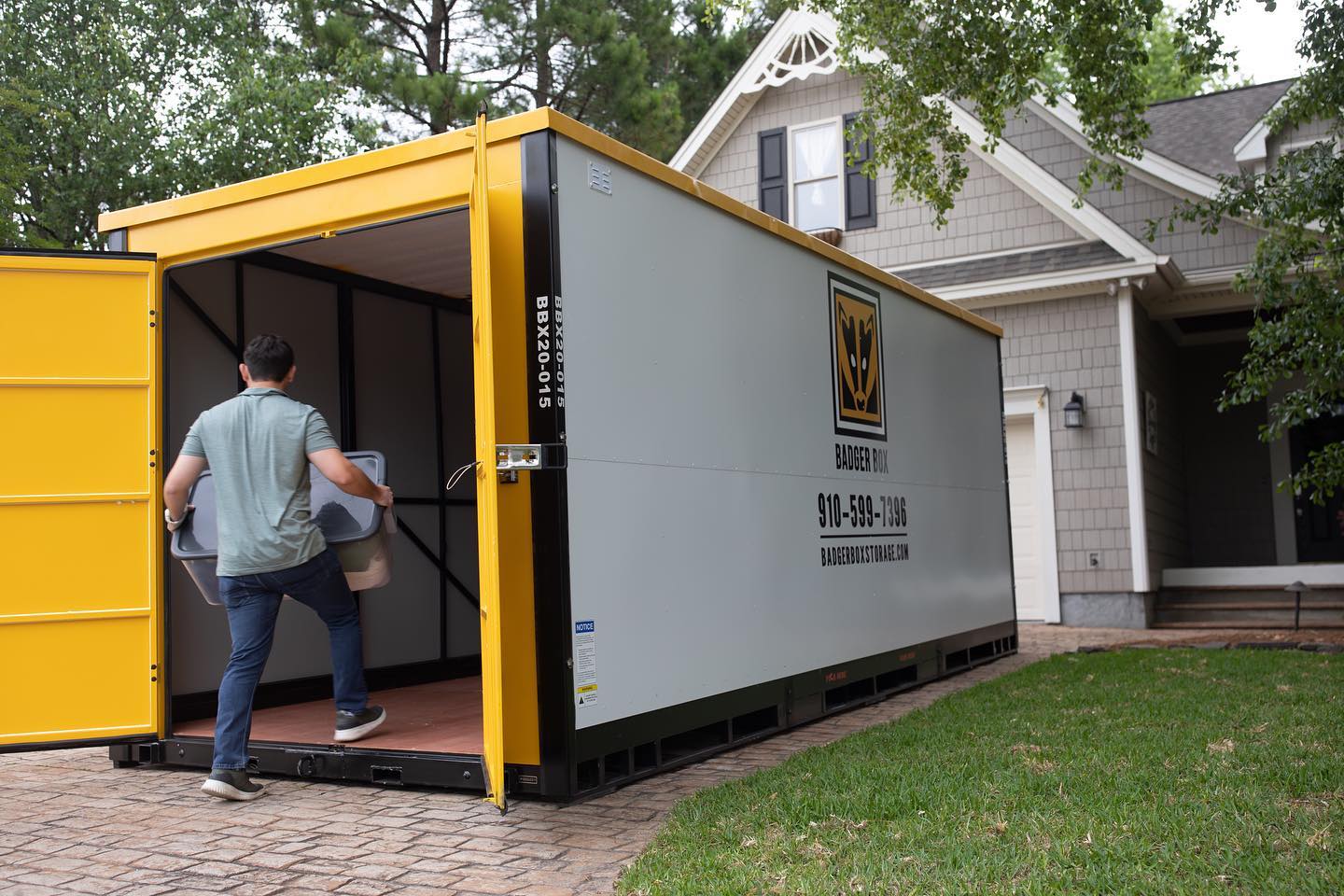 Dealing with clutter is one of the biggest challenges for homeowners. Fortunately, you don't have to worry about it with a Badger Box storage unit. This simple, durable, and easy-to-use portable storage solution can help you store your precious belongings without hassle. You can't find a better storage unit in Wilmington, NC.
Here's why:
Steel Roofing: Most storage units in Wilmington, North Carolina, skimp on the roofs to cut costs. But not us. At Badger Box, we use steel roofing which lasts longer than plastic roofs.
Anti-Condensation Coated Ceilings: We have added this feature to our portable storage units in Wilmington, NC, to fight off the high humidity. The coating, which looks like a popcorn ceiling, prevents condensation built up and dripping inside the container.
Air Ducts: The air ducts keep the container ventilated. They work with anti-condensation coated ceilings to prevent moisture build-up inside the storage unit.
Latch Style Swing Doors: Although heavy-duty, you can easily open and close these doors. Unlike the roll-up doors most storage units in Wilmington offer, you can open these without bending down.
Weather Stripping: Each of our prime storage in Wilmington, NC, comes with weather stripping around the entire door opening. It keeps your belongings safe from weather elements.
Tie-Down Hooks: With 20 tie-down rings, you can readily secure your belongings. In other words, you can transport your belongings safely.
Fully Sealed Frame: With a fully sealed frame, the Badger Box storage unit will not allow water to penetrate and sit inside the container. Water can cause rust and lead to mold and mildew eventually.
16' and 20' Containers: Unlike other storage units in Wilmington, NC, Badger Box comes in 20' containers. So you have a bigger space to store your belongings.
On-Demand Delivery and Pick-Up
Whether you are moving to Wilmington or moving away to another city from Wilmington, Badger Box is here to make your move smooth and easy. With our prime storage units in Wilmington, you can move quickly, efficiently, and without breaking the bank. And getting your storage unit is now easier than ever.
Here's how Badger Box works:
Give Us Call: At Badger Box, the owner or a local portable storage expert will answer your call. We will get your details and help you find the best mobile storage unit in Wilmington, NC.
Get Your Badger Box: We will deliver your Badger Box when and where you need it. Unlike others, we can place our Badger Boxes nearly anywhere with our delivery system.
Keep It as Long as You Want: We are very flexible. It's a 30-day rental with no long-term commitment. And if your plans change, we will work with you to meet your needs. You can get new storage units in Wilmington within 24-48 hours of booking. All you have to do is call us. But most importantly, we also make same-day delivery, should you be in a real pickle.
No Gimmicks or Hidden Fees: At Badger Box, you pay the price we quote. There are no hidden fees or gimmicks. As a trusted local business, we believe in 100% transparency.
Flexible Leasing Options and Storage Facilities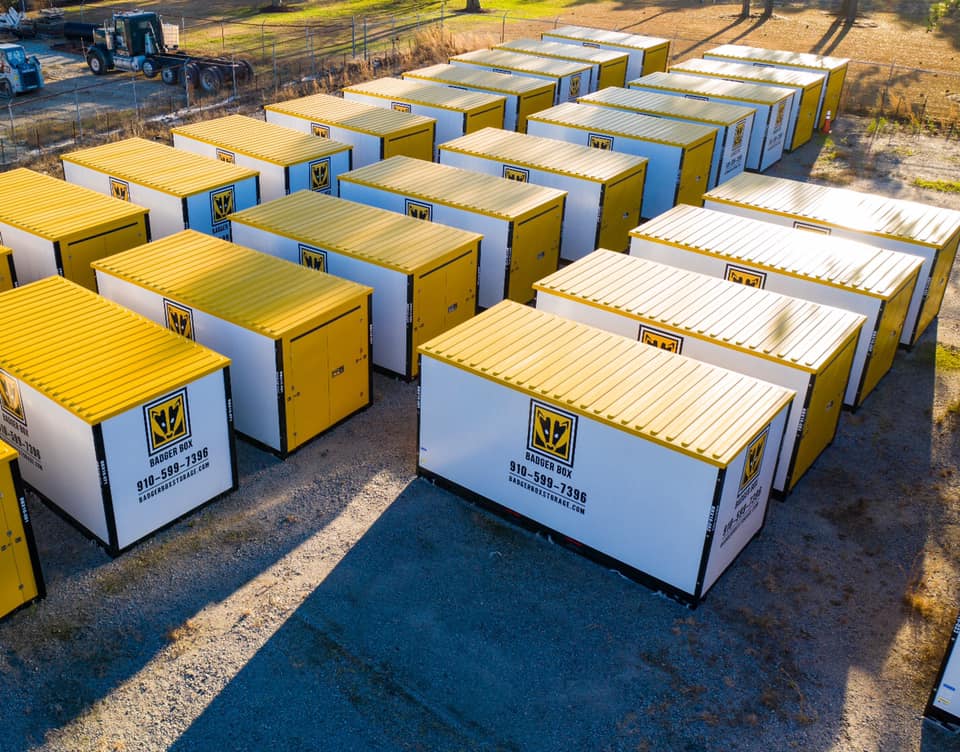 Why should you choose Badger Box out of several other storage facilities in Wilmington, NC?
The simple answer would be that Badger Box offers a few unique benefits that other storage facilities don't. Here are a few advantages you will get when you hire us.
Flexibility: It is a 30-day rental. But there is no long-term commitment involved. Plus, you can order new storage units in Wilmington within 24 to 48 hrs if your plans change. And yes, we have same-day delivery if you need it.
Transparency: We hate hidden fees and gimmicks as much as you do. So, you will always pay the price we quote. That's our promise!
Excellent Service: Unlike our competitors, we can deliver Badger Boxes nearly anywhere you want. It is more convenient for you.
Load and Unload When You Want: With a 30-day rental, you can load and unload your belongings anytime you want.
Keep It Where You Want: You can store your Badger Box where you need it. You can keep it in your driveway or at one of our storage facilities in Wilmington, NC.
Insurance Coverage: Get insurance coverage for every Badger Box storage unit you order.
16′ and 20′ Containers: No other storage facilities in Wilmington, NC, offer a 20' container. That's more storage for you.
We Are Local: We are not a large corporation. We are a local family-owned business. That means we understand your needs better. Plus, when you hire us, you are supporting a local business.
Trusted Brand: We may be local, but we are one of the trusted storage facilities in Wilmington, NC. We are here to help you every step of the way. And we are only a phone call away should you need us.
Choose the Right Storage Solution for Your Needs
Whether you are a business or an individual, Badger Box can provide mobile storage solutions. But it all comes down to making the most of the Badger Box storage units. It can help you move your house without a hiccup.
Be sure to do the following:
Make a moving-out checklist and stay on track by crossing an item as you complete it. It helps you stay organized.
Set your budget aside for moving your house. A realistic budget will help you make the choices you can afford.
Declutter before your moving date. You can donate or throw away the things you don't want.
Get more packing supplies than you think you need. You don't want to look for more packing boxes at the last minute. It leads to more stress.
Pack everything neatly. For instance, mark the boxes containing glassware and delicate items "handle with care" or "fragile."
Badger Box Wilmington, NC
Keeping Up With the Pace of Change
Contact us today and find out how we can help you cover your moves and storage needs.
What Are Customers Saying?
Excellent. And here's why:
Professional, courteous, accommodating and communicative. We were finally able to move ahead with Florence repairs and needed to store the excess ahead of construction. I had my Badger box delivered within 48 hours to suit my schedule and updates throughout the whole process. (I've moved across country using the original box storage guys, so had an idea what to expect,) but was super pleased with my overall experience here and the fantastic value for money. I instantly referred them to friends who were moving and they were equally impressed! Support local and support these guys, you won't be disappointed:)
So my Company was in a bind with the state concerning rats. We had a Small amount (Like a day) to get a storage box to our company. I call everywhere and they were going to charge over $200 a piece to deliver and pick up. So I decided to call Badger Box and Stephen was just so helpful not only did he get us a box within a day it was the day after the holiday so it's a busy time and everyone else could only get to us within a week. He explained everything no hidden fees the box was perfect. Not only That but his personality and customer service was 100% and that is what makes this experience so worth it. Shop Local!!
The absolute BEST CUSTOMER SERVICE. ALL my questions were answered ASAP! We had the box in one place and then changed our minds and the team came out immediately and put it where we wanted it! The box is super clean and just our whole experience was FANTASTIC FROM START TO FINISH! I will recommend BADGER BOX to EVERYONE! So happy to help support a local top notch business!!!!!
These guys know how to treat people! Chris is super helpful in figuring out what size box you need and he can finagle the box into any tight space. Definitely met my needs. Don't bother with any of the other guys, Chris is the man.
The customer service and attention to detail and flexibility is paramount! The entire staff is exactly what you need when you're stressed from moving! I would recommend them over the competitors 10 times out of 10 times! Price is great as well!