1) Go For A Romantic Stroll Along Wilmington Riverwalk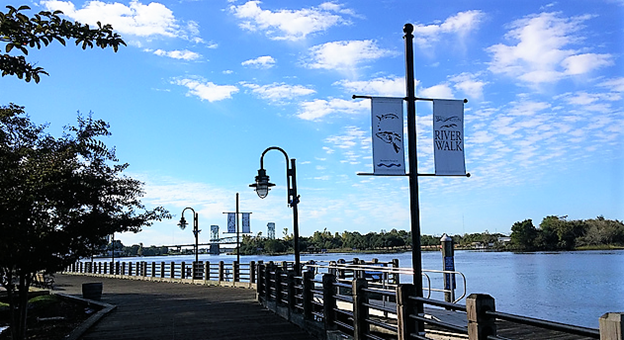 Enjoy the breathtaking views of the riverfront as you enjoy a romantic walk with your better half on one of Wilmington's main tourist attractions – Wilmington Riverwalk. Constructed on the banks of Cape Fear River, this is a 1.75-mile (2.82-kilometer) boardwalk that is always buzzing with activity. It is lined with great food joints and shops. Grab a cup of coffee, relax and enjoy the sight of people jogging in the morning. In the evening, the place fills up with couples who come to enjoy the magical views of the golden sunset. Public docking is available along the Riverwalk. This classic date idea in Wilmington, NC is one you'll remember for a long time.
2)Enjoy A Romantic Walk At Airlie Gardens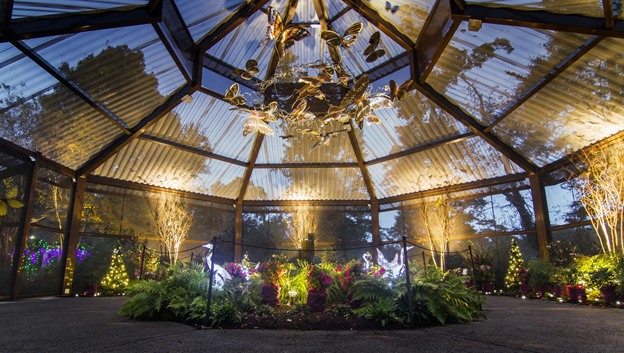 Airlie Gardens. Nestled in a lush, green oak jungle, this place comes with special tranquility that makes it so attractive to lovers. With a beautiful network of wonderfully manicured walking paths, you get to explore the charming gardens as you leisurely enjoy a romantic walk. What you won't fail to notice are the mighty live oaks, beautiful birds perched on trees, and different colorful wildlife. You can also make reservations at this romantic place in Wilmington, NC if you've got an event to plan.
3) Book A Horse-Drawn Tour Of Downtown Wilmington With Springbrook Farms Carriage

There's no better way to explore this awe-inspiring city than on a carriage ride by horse. If you are celebrating a special occasion like a honeymoon, it would be such a romantic gesture touring the city together on a white carriage. How can you say you were in Wilmington if you didn't enjoy such a signature horseback ride in the city? Book with Springbrook Farms Carriage, and with the help of a well-informed guide, you'll find out about popular joints around the city. This way you get to know the city better without frying under the scorching sun.
4) Romantic Dinner Cruise On Cape Fear River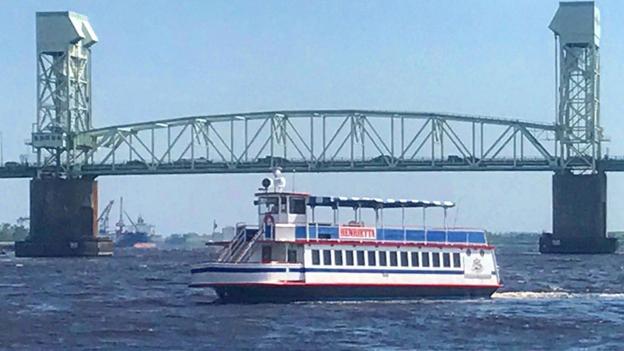 For people looking for date night ideas, nothing beats enjoying a romantic dinner with your loved one on a cruise boat. And such is the magical experience you'll enjoy when you visit this waterfront city. After spending your day touring its vibrant streets on foot, treat yourself to a blissful moment and spend your evening traversing the tranquil waters of Cape Fear River while enjoying a candle-lit dinner. Order whatever delicacies you'd like to enjoy coupled with your favorite wine from any of the waterfront restaurants. A dinner cruise surely is one of the best things to do in Wilmington, NC for couples.
We hope you enjoy your future date nights! We know our team at Badger Box Mobile Storage enjoys these 4 locations.
THE BADGER BOX DIFFERENCE
Looking to rent affordable self-storage in the Wilmington, NC & Fayetteville, NC area? We provide reliable mobile and portable storage unit rentals and delivery services in Wilmington, Fayetteville, and all surrounding cities.
At Badger Box, we care about you and will treat your belongings as if they were our own. We operate with the best products available in the industry. Our boxes are made from the highest quality steel capable of holding 10,000 lbs and 120mph wind resistant. There are 2 vents to reduce humidity build-up in the unit and a floor made of marine-grade plywood to ensure a non-slip surface for easy packing. There are 20 welded tie-down rings 3' and 5' from the floor so you'll always have a way to secure your belongings.
For our deliveries, we use the Cardinal Mule box moving system to deliver a level lift and gentle placement of your containers to protect your belongings. Don't worry, you are in good hands with Badger Box!